---
Chief Patron of the Pakistan-Australia
The Pakistan-Australia Business Council Executive and Patrons take pleasure in announcing that Ms Zorica McCarthy, former Australian High Commissioner to Pakistan (2004-2009), has accepted the position of Chief Patron of the Pakistan-Australia Business Council Incorporated.
Ms McCarthy served with the Australian Government for 39 years, most recently as Ambassador to Spain, Andorra and Equatorial Guinea (2009-2012) and High Commissioner to Pakistan (2004-2009). She was also non-resident Ambassador to Afghanistan from 2004-2006.
In previous assignments, she served in Australia's missions in Seoul, Washington, Port Moresby and Rome. She worked at the Office of National Assessments from 1995-1998, and in the Department of Defense in 1990.
Ms McCarthy has a Bachelor of Arts degree from Flanders University. She has two daughters and is now retired living in Sydney.
More on our patrons can be found on www.pabc.org.au/patrons
The Business Council Executive is pleased to have Ms McCarthy as Chief Patron, given her extensive experience with Pakistan. She will be visiting Pakistan in the near future to make representations on behalf of the Council.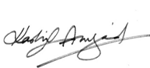 Kashif Amjad
SENIOR VICE PRESIDENT